COSCO SHIPPING pledges to offer customers with favorable equipment policies to tackle the current difficulties.
    2020-01-31
Dear valued Customers,
In order to facilitate the prevention and control of novel coronaviruses and better accommodate the customers' needs in cargo arrangement during this period, we hereby announce specific policy on container free use in mainland China: All Extra DND amount incurred during Jan 24, 2020 to Feb 9,2020 will be waived.
According to China State Council and local governments' instruction, COSCO SHIPPING lines HQ and regional offices in China will extend the 2020 Chinese New Year holiday. Our staff on duty has already been properly arranged during the extended holiday. You may contact us through the following public customer service email accounts in case you need any assistance. You may check detailed staff on duty list for each regional offices by click City name by the end of this article.
The case by case application should be made by CNEE to POD local agencies(not by POL agency) who will summary all applications and apply to HQ all together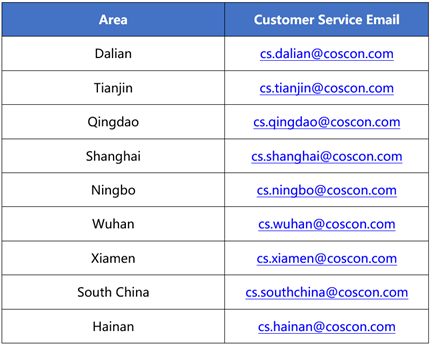 COSCO SHIPPING lines HQ and regional offices in China (except Wuhan) will resume work on February 10, 2020 (Monday). The resuming plan of Wuhan will be further announced.  For the health and safety of our customers and employees, anti-epidemic measures in all our offices will be enhanced, and we look forward to your best understanding and kind cooperation.
DalianTianjinQingdaoNingboShanghaiWuhanSouth ChinaXiamenHainan
COSCO SHIPPING Lines
Jan 31, 2019